Posts for: December, 2017
By DeMartin Dental Associates, PC
December 19, 2017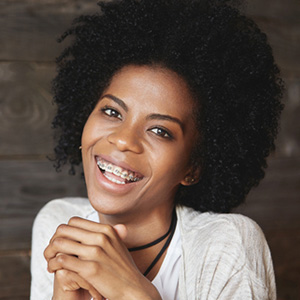 Wearing braces takes time, but if all goes well the changes to your smile will be well worth it. In the meantime, though, you'll have to contend with one particular difficulty—keeping your teeth clean of disease-causing, bacterial plaque.
Don't worry, though—while keeping dental disease at bay with braces can be challenging, it is doable. Here are 4 tips for minimizing your chances of tooth decay or periodontal (gum) disease during orthodontic treatment.
Eat less sugar. Like any living organism, bacteria must eat—and they're especially amenable to sugar. The more they have access to this favorite food source, the more they multiply—and the greater your risk of tooth decay or gum disease. Eating fewer sugary foods and snacks and more dental-friendly ones helps restrict bacteria populations in your mouth.
Brush thoroughly. Brushing with braces can be difficult, especially in areas blocked by orthodontic hardware. You need to be sure you brush all tooth and gum surfaces around your braces, including above and below the wire running through the brackets. A soft multi-tufted microline bristle brush is a good choice for getting into these hard to reach places. Brushing around braces takes more time, but it's essential for effective plaque removal.
Use flossing tools. Flossing is important for removing plaque from between teeth—but, unfortunately, it might be even more difficult to perform with braces than brushing. If using string floss proves too daunting consider using a floss threader or a similar device that might be easier to maneuver. You can also use a water irrigator, a hand-held device that sprays water under pressure to loosen and flush away between-teeth plaque.
Keep up regular dental visits. While you're seeing your orthodontist regularly for adjustments, you should also see your general dentist at least every six months or more. Besides dental cleaning, your dentist also monitors for signs of disease and can prescribe preventive measures like antibacterial mouth rinses. Of course, if you see abnormalities, like white spots on your teeth or red, puffy or bleeding gums, contact your dentist as soon as possible. The sooner a problem can be addressed the less impact it may have on your orthodontic treatment and overall oral health.
If you would like more information on caring for teeth and gums while wearing braces, please contact us or schedule an appointment for a consultation. You can also learn more about this topic by reading the Dear Doctor magazine article "Caring for Teeth During Orthodontic Treatment."
By DeMartin Dental Associates, PC
December 04, 2017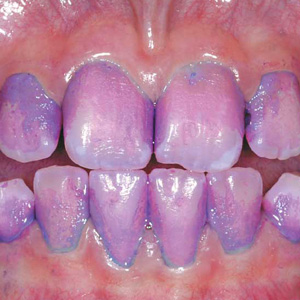 Brushing and flossing every day are important for preventing dental disease. The object is to remove as much bacterial plaque, the thin biofilm most responsible for disease, from your teeth and gums as possible.
But how do you know your hygiene efforts are that effective? You can of course do the "tongue test" â?? feel your teeth with your tongue after brushing and flossing and see if they feel smooth and "squeaky" clean. We can also give you a "report card" at your regular cleaning appointment. There is, however, a more precise way you can find out at home by using a plaque disclosing agent.
A plaque disclosing agent is a formulation that when applied to the teeth will temporarily dye any bacterial plaque present a distinct color. While dental hygienists occasionally apply them, they're also available over the counter for use at home. They're usually found in a solution, tablet or swab form in various flavors.
To use the product you first brush and floss, then swish the disclosing liquid around in your mouth for about 30 seconds before spitting it out (or chew the tablet or apply the swab as directed). The agent will react with any remaining plaque and dye it a bright color. There are even two-tone agents available that can differentiate between old and new plaque and dye them different colors.
Examining your teeth in a mirror will give you a good idea where you need to concentrate your attention when brushing and flossing. If, for example, you see dyed plaque more along the gum line and less in other places, then that's where you should focus your hygiene efforts.
While the dye will eventually wear off on its own, you should take the opportunity to brush and floss again to remove any remaining dyed plaque. Not only does this provide a more thorough cleaning at that moment, you'll also get a better sense of how "thoroughness" feels for future brushing and flossing.
It's always good to know how well you're doing with your dental hygiene efforts. A plaque disclosing agent can give you just the right feedback to help you improve.
If you would like more information on proper oral hygiene habits, please contact us or schedule an appointment for a consultation. You can also learn more about this topic by reading the Dear Doctor magazine article "Plaque Disclosing Agents."