Posts for: June, 2020
By DeMartin Dental Associates, PC
June 20, 2020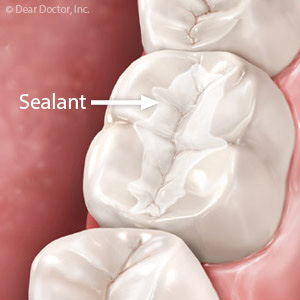 Your child could hit a speed bump on their road to dental maturity—tooth decay. In fact, children are susceptible to an aggressive form of decay known as Early Childhood Caries (ECC) that can lead to tooth loss and possible bite issues for other teeth.
But dentists have a few weapons in their arsenal for helping children avoid tooth decay. One of these used for many years now is the application of sealants to the biting surfaces of both primary and permanent teeth. Now, two major research studies have produced evidence that sealant applications help reduce children's tooth decay.
Applying sealant is a quick and painless procedure that doesn't require drilling or anesthesia. A dentist brushes the sealant in liquid form to the nooks and crannies of a tooth's biting surfaces, which tend to accumulate decay-causing bacterial plaque. They then use a curing light to harden the sealant.
The studies previously mentioned that involved thousands of patients over a number of years, found that pediatric patients without dental sealants were more than three times likely to get cavities compared to those who had sealants applied to their teeth. The studies also found the beneficial effect of a sealant could last four years or more after its application.
The American Dental Association and the American Academy of Pediatric Dentistry recommend sealants for children, especially those at high risk for decay. It's common practice now for children to first get sealants when their first permanent molars erupt (teeth that are highly susceptible to decay), usually between the ages of 5 and 7, and then later as additional molars come in.
There is a modest cost for sealant applications, but far less than the potential costs for decay treatment and later bite issues. Having your child undergo sealant treatment is a worthwhile investment: It could prevent decay and tooth loss in the near-term, and also help your child avoid more extensive dental problems in the future.
If you would like more information on sealants and other preventive measures for children's teeth, please contact us or schedule an appointment for a consultation.
By DeMartin Dental Associates, PC
June 10, 2020
Straightening your teeth with braces or other orthodontic gear is a positive step toward a healthier and more attractive smile. You'll likely be pleased with your smile when they're removed.
But you may also notice something peculiar once the braces are off—dull, white spots on your teeth. These spots, usually located under or around braces hardware, are where mouth acid has "demineralized" calcium and other minerals in the enamel. As beginning tooth decay, these spots are a sign your hygiene efforts weren't sufficient in cleaning your teeth of plaque.
In many cases, the spots will improve on their own after the braces are removed. We can also strengthen the enamel with fluoride pastes or gels, or inject tooth-colored resin within the spot to restore the enamel's translucence and improve appearance.
But the best approach is to try to prevent white spots from occurring at all. Here's what you need to do.
Keep up your oral hygiene. Even though more difficult with braces, you still need to brush and floss to protect your teeth from tooth decay. To make it easier, take advantage of special brushes designed to clean around orthodontic brackets and wires. A floss threader can also help you better access between teeth—or switch to a water flosser instead of floss thread.
Practice a "tooth-friendly" diet. A diet high in sugar and acid could short-circuit your best hygiene efforts. Certain beverages are big offenders: sodas, energy and sports drinks, and even "natural" juices. Instead, eat foods high in vitamins and minerals like fresh fruits and vegetables, lean proteins and low-fat dairy.
Get your teeth cleaned regularly. While you're seeing your orthodontist for scheduled adjustments, don't neglect regular cleanings with your family dentist. Professional cleanings at least every six months reduce the risk of dental disease. These regular visits are also a good time for your dentist to check your teeth for any signs of dental problems associated with your braces.
It's not easy to keep your teeth clean while wearing braces, but it can be done. With help from a few handy tools and continuing care from your dental professionals, you can avoid unsightly white spots.
If you would like more information on dental care while wearing braces, please contact us or schedule an appointment for a consultation. You can also learn more about this topic by reading the Dear Doctor magazine article "White Spots on Teeth During Orthodontic Treatment."