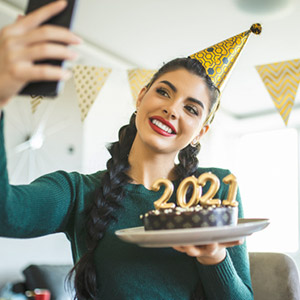 A New Year's resolution can be just about anything, from losing weight to visiting every major league baseball park. But a resolution you're more likely to keep ought to have two things going for it: It's doable and it changes your life for the better. Here's one that meets those criteria—taking better care of your smile. So we hope that made your 2021 list.
Resolving to pursue more committed dental care can have a double benefit. It can improve your dental health and it could help you gain a more attractive smile. What's more, it's not hard to do—it takes only about five minutes of your time each day, along with a couple of dental visits a year.
Here's how you can make better smile care in 2021 one of your best New Year's resolutions ever.
Brush and floss daily. Your mouth's biggest enemy is dental plaque, a thin film of bacteria and food particles on tooth surfaces. The bacteria in plaque can cause both tooth decay and gum disease. But by removing accumulated plaque with brushing and flossing, you can drastically reduce your risk for dental disease. The key is to do it every day without fail—no holidays!
Have your teeth cleaned. Even if you're an oral hygiene ninja, you can still miss some plaque, which may then harden into calculus (or tartar). This calcified form (which is just as harmful as softer plaque) is nearly impossible to remove by brushing or flossing. But we can at the dental office—which is why having your teeth professionally cleaned every six months makes it even less likely you'll encounter dental disease.
Give your teeth a better diet. If you're also resolving to eat more nutritiously, here's an extra incentive: Your diet can impact your dental health. On one hand, diets high in certain carbohydrates (particularly sugar) increase your risk for disease. On the other hand, a balanced diet of fresh fruits and vegetables, whole grains, and dairy products can strengthen your teeth and help them stay healthy.
Update your dental work. You may have fillings, crowns or bridges that fixed a dental problem in the past but may have since fallen into disrepair. If so, now is the time to update them—and putting it off could increase your risk for disease or other serious dental problems. Taking care of needed renovations to older dental work promotes better oral health, and may also improve your smile.
Want to start the New Year off right in regard to your teeth and gums? See us for a complete checkup and evaluation of your dental health. Together, we can develop just the right care plan to help you achieve your resolution of a healthier mouth and a more attractive smile.
If you would like more information about effective dental care, please contact us or schedule a consultation. To learn more, read the Dear Doctor magazine article "Daily Oral Hygiene."