Our Dentists Have A Combined Experience Of Over 60 Years In Dental Care
Edward V. Finnigan, DDS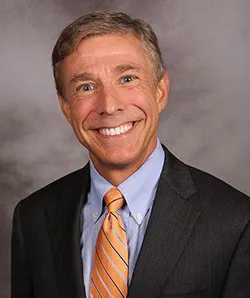 Dr. Finnigan was born and raised in West Islip, New York. After graduating from the University of Maryland Dental School in Baltimore in 1990, he started practicing general dentistry at Chelmsford Dental Associates, Massachusetts. While in the Boston area for 4 years,he was also a part-time clinical instructor at Tufts Dental school. In 1994 he joined DeMartin Dental and has been practicing in Fairfield ever since.
He is active in The Bridgeport Dental Association, where he served in many capacities as well as President in 2005-2006. He also sits on the Membership Committee of the Connecticut State Dental Association and is a Member of the American Dental Association. He received His Fellowship in the Academy of General Dentistry in 1999. He and his wife Ellen enjoy living in Fairfield and have two teenage children. In addition to following his children's activities, he enjoys running, skiing and plays in the men's softball leagues in Fairfield.
Meet Our Dentists
At DeMartin Dental Associates, we want to make certain that you are comfortable and excited about your visit. The warm atmosphere at our clinic will immediately relax you before your consultation. Our knowledgeable dentists will educate you about the whole treatment procedure and clarify all your concerns. Being aware of the entire course of treatment will calm your nerves and put you at ease. The staff at DeMartin Dental Associates is courteous and extremely cooperative; we make every possible effort to make you feel at home.
Our dental hygienists have been looking after the dental needs of the patients in Fairfield County for over 50 years. We have a combined experience of more than 60 years in treating dental problems. We have three experienced dentists who can take care of your dental needs.
Edward V. Finnigan, D.D.S., F.A.G.D
Janice A. Hunt, D.D.S.
Matthew E. Vinoski, D.M.D.
Dr. Vinoski and Dr. Hunt completed residencies in General Dentistry as part of their training. All the dentists are Board Certified to offer specialized dental services to our patients. They are also members of Connecticut State Dental Association and Bridgeport Dental Association.
---
Demartin Dental Associates is equipped with the latest in hi-tech dental equipment and our staff is trained to provide the best possible dental experience for you and your family. We take pride in the service we provide to our patients from Fairfield, Westport, Trumbull, and Weston. If you have any questions, concerns, or would like to schedule an appointment , please contact us today. We look forward to providing you with the personal oral care you deserve.