Posts for tag: orthodontics
By DeMartin Dental Associates, PC
June 10, 2020
Straightening your teeth with braces or other orthodontic gear is a positive step toward a healthier and more attractive smile. You'll likely be pleased with your smile when they're removed.
But you may also notice something peculiar once the braces are off—dull, white spots on your teeth. These spots, usually located under or around braces hardware, are where mouth acid has "demineralized" calcium and other minerals in the enamel. As beginning tooth decay, these spots are a sign your hygiene efforts weren't sufficient in cleaning your teeth of plaque.
In many cases, the spots will improve on their own after the braces are removed. We can also strengthen the enamel with fluoride pastes or gels, or inject tooth-colored resin within the spot to restore the enamel's translucence and improve appearance.
But the best approach is to try to prevent white spots from occurring at all. Here's what you need to do.
Keep up your oral hygiene. Even though more difficult with braces, you still need to brush and floss to protect your teeth from tooth decay. To make it easier, take advantage of special brushes designed to clean around orthodontic brackets and wires. A floss threader can also help you better access between teeth—or switch to a water flosser instead of floss thread.
Practice a "tooth-friendly" diet. A diet high in sugar and acid could short-circuit your best hygiene efforts. Certain beverages are big offenders: sodas, energy and sports drinks, and even "natural" juices. Instead, eat foods high in vitamins and minerals like fresh fruits and vegetables, lean proteins and low-fat dairy.
Get your teeth cleaned regularly. While you're seeing your orthodontist for scheduled adjustments, don't neglect regular cleanings with your family dentist. Professional cleanings at least every six months reduce the risk of dental disease. These regular visits are also a good time for your dentist to check your teeth for any signs of dental problems associated with your braces.
It's not easy to keep your teeth clean while wearing braces, but it can be done. With help from a few handy tools and continuing care from your dental professionals, you can avoid unsightly white spots.
If you would like more information on dental care while wearing braces, please contact us or schedule an appointment for a consultation. You can also learn more about this topic by reading the Dear Doctor magazine article "White Spots on Teeth During Orthodontic Treatment."
By DeMartin Dental Associates, PC
May 01, 2018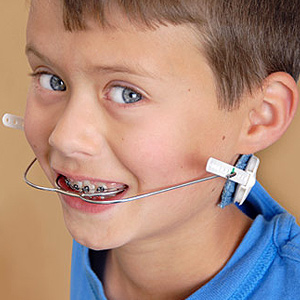 Most of us are quite familiar with what traditional braces look like. But occasionally we see more complex-looking devices being worn by young orthodontic patients: thicker wires that extend outside the mouth, with straps that may go behind the neck or over the chin. What are these devices, and why are they sometimes needed?
In general, orthodontic appliances with external parts braced by the head, neck or chin are referred to as "headgear." These devices may be used to handle a number of particular orthodontic situations, but they all have one thing in common: They provide the additional anchorage needed to move teeth into better positions.
It may come as a surprise that teeth, which seem so solid, can actually be moved fairly easily over time. This is because teeth are not fixed directly into bone, but are instead held in place by a hammock-like structure called the periodontal ligament. Using a light, controlled force — such as the force of springy wires and elastics in traditional braces — teeth can be moved slowly through the jaw bone, like a stick being pulled through sand.
Of course, to pull a stick through sand, you need a firm anchorage — your legs, for example, bracing against a rock. Most of the time, the back teeth, with their large, multiple roots, provide plenty of support. But sometimes, the back teeth alone aren't enough to do the job.
If a very large space between teeth is being closed, for example, the back teeth might be pulled forward as the front teeth are pulled back; this could result in poor alignment and bite problems. In other cases, the front teeth may need to be pulled forward instead of back. The back teeth can't help here; this is a job for headgear.
Some types of headgear have a strap that goes behind the head or neck; they use the entire head as an anchorage. Other types, called "reverse pull" headgear, have a strap that comes over the chin or the forehead; they can pull teeth forward. Headgear can even influence the proper growth of facial structures — that's why it is usually seen on preteens, whose growth isn't yet complete.
Headgear is usually worn for 12 hours per day, for a limited period of time. In some cases, rather than headgear, appliances called "temporary anchorage devices" (TADS) may be recommended. These are tiny screws that are implanted into the jawbone in a minimally invasive procedure, and serve a similar function.
While it may not look pretty, orthodontic headgear is capable of moving teeth into their proper positions in a relatively short period of time — and ending up with a great-looking smile is what orthodontics is all about.
If you have questions about orthodontic headgear, please call our office to schedule a consultation. You can read more in the Dear Doctor magazine article "Moving Teeth With Orthodontics."
By DeMartin Dental Associates, PC
December 19, 2017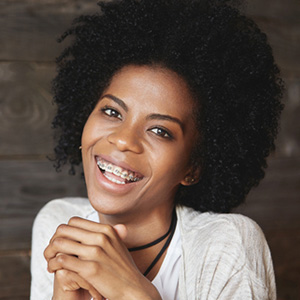 Wearing braces takes time, but if all goes well the changes to your smile will be well worth it. In the meantime, though, you'll have to contend with one particular difficulty—keeping your teeth clean of disease-causing, bacterial plaque.
Don't worry, though—while keeping dental disease at bay with braces can be challenging, it is doable. Here are 4 tips for minimizing your chances of tooth decay or periodontal (gum) disease during orthodontic treatment.
Eat less sugar. Like any living organism, bacteria must eat—and they're especially amenable to sugar. The more they have access to this favorite food source, the more they multiply—and the greater your risk of tooth decay or gum disease. Eating fewer sugary foods and snacks and more dental-friendly ones helps restrict bacteria populations in your mouth.
Brush thoroughly. Brushing with braces can be difficult, especially in areas blocked by orthodontic hardware. You need to be sure you brush all tooth and gum surfaces around your braces, including above and below the wire running through the brackets. A soft multi-tufted microline bristle brush is a good choice for getting into these hard to reach places. Brushing around braces takes more time, but it's essential for effective plaque removal.
Use flossing tools. Flossing is important for removing plaque from between teeth—but, unfortunately, it might be even more difficult to perform with braces than brushing. If using string floss proves too daunting consider using a floss threader or a similar device that might be easier to maneuver. You can also use a water irrigator, a hand-held device that sprays water under pressure to loosen and flush away between-teeth plaque.
Keep up regular dental visits. While you're seeing your orthodontist regularly for adjustments, you should also see your general dentist at least every six months or more. Besides dental cleaning, your dentist also monitors for signs of disease and can prescribe preventive measures like antibacterial mouth rinses. Of course, if you see abnormalities, like white spots on your teeth or red, puffy or bleeding gums, contact your dentist as soon as possible. The sooner a problem can be addressed the less impact it may have on your orthodontic treatment and overall oral health.
If you would like more information on caring for teeth and gums while wearing braces, please contact us or schedule an appointment for a consultation. You can also learn more about this topic by reading the Dear Doctor magazine article "Caring for Teeth During Orthodontic Treatment."